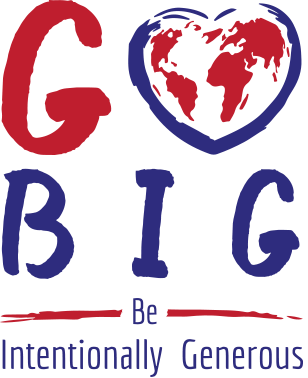 OUR MISSION
Our passion to Go B.I.G at CtK Church is very simple – to show the love of Jesus with those we encounter each day. 
It is our prayer that this Go B.I.G movement will spread through every individual, family and group of CtK Church and even take root in individuals and organizations throughout the community. 
We desire to make these two Scripture passages from Jesus come alive in our heart and through our lives.
"By this all people will know that you are my disciples, if you have love for one another." 
– John 13:35
"…let your light shine before others, so that they may see your good works and give glory to your Father who is in heaven." 
– Matthew 5:16
Go B.I.G individually.
Think generously as you head out each day.  How are ways you can share the love of Jesus, make a difference and be life-giving to someone who needs a boost? 
Go B.I.G as a family.
Gather with your family and consider ways you might go out together and share the love of Jesus.  There are so many ways that will uplift someone's day or bring on a smile.
Go B.I.G. as a Community Group.
There is nothing like the joy of making a difference together with others you study and do life with.  Discuss with your Community Group some ways you might make a difference in the lives of others and plan on a couple times a year you will Go B.I.G. in the community together.
SHARE YOUR EXPERIENCE
Click below to share the experiences and stories of how you, your family, your community or church-wide event made a difference in someone's life with the love of Jesus. Or you can write your experience on one of the hearts in the worship foyer at CtK Church and place on Go B.I.G.