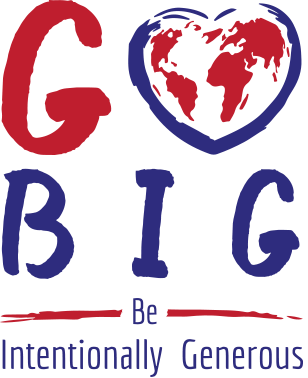 OUR MISSION
Our passion to Go B.I.G at CtK Church is very simple – to show the love of Jesus with those we encounter each day. 
It is our prayer that this Go B.I.G movement will spread through every individual, family and group of CtK Church and even take root in individuals and organizations throughout the community. 
We desire to make these two Scripture passages from Jesus come alive in our heart and through our lives.
"By this all people will know that you are my disciples, if you have love for one another." 
– John 13:35
"…let your light shine before others, so that they may see your good works and give glory to your Father who is in heaven." 
– Matthew 5:16
Go B.I.G individually.
Think generously as you head out each day.  How are ways you can share the love of Jesus, make a difference and be life-giving to someone who needs a boost? 
Go B.I.G as a family.
Gather with your family and consider ways you might go out together and share the love of Jesus.  There are so many ways that will uplift someone's day or bring on a smile.
Go B.I.G. as a Community Group.
There is nothing like the joy of making a difference together with others you study and do life with.  Discuss with your Community Group some ways you might make a difference in the lives of others and plan on a couple times a year you will Go B.I.G. in the community together.
VISIT with residents in assisted living facilities and share a meal or play BINGO
VISIT a hospital and donate toys for kids and/or care/prayer with visitors
SHARE food/water or hand out "blessing bags" with helpful items to people you see on the streets
HELP people when you see their car has broken down on the side of the road
PREPARE a meal or perform a helpful task for

 

a widow or single mom in your community
INVITE someone with no family to church and/or your home for Easter dinner
OFFER a free service on NextDoor or Craiglist (e.g., free help moving, free help with lawn service, free help running errands, etc.)

AFFIRM or point out the positive in others, instead of criticizing or complaining
FORGIVE and make amends, or have an intentional conversation with a friend or family member you've been avoiding
WRITE thank you notes to your children's teachers/coaches or co-workers/boss
SIT with a classmate at lunch who sits alone, encourage/have fun with them, and help them know they have a friend in you
WELCOME new neighbors or seek out neighbors who you have not met
DONATE extra water/Gatorade bottles to your kid's sports event to share with others

  

• 

  

PAY for the customer behind you at the drive thru or register

  

• 

  

GIVE an extra big tip to your waiter/waitress at a restaurant

  

• 

  

OFFER to assist carrying someone's groceries or bags to their car
SHARE YOUR EXPERIENCE
Click below to share the experiences and stories of how you, your family, your community or church-wide event made a difference in someone's life with the love of Jesus. Or you can write your experience on one of the hearts in the worship foyer at CtK Church and place on Go B.I.G.